Photographers we cover at photoGuard
What kind of photographer are you?
Whether you enjoy getting out and capturing your surroundings, or if you earn your living taking photographs, photography is a great way to demonstrate your creativity and we know that you want the right protection to keep you snapping for as long as possible.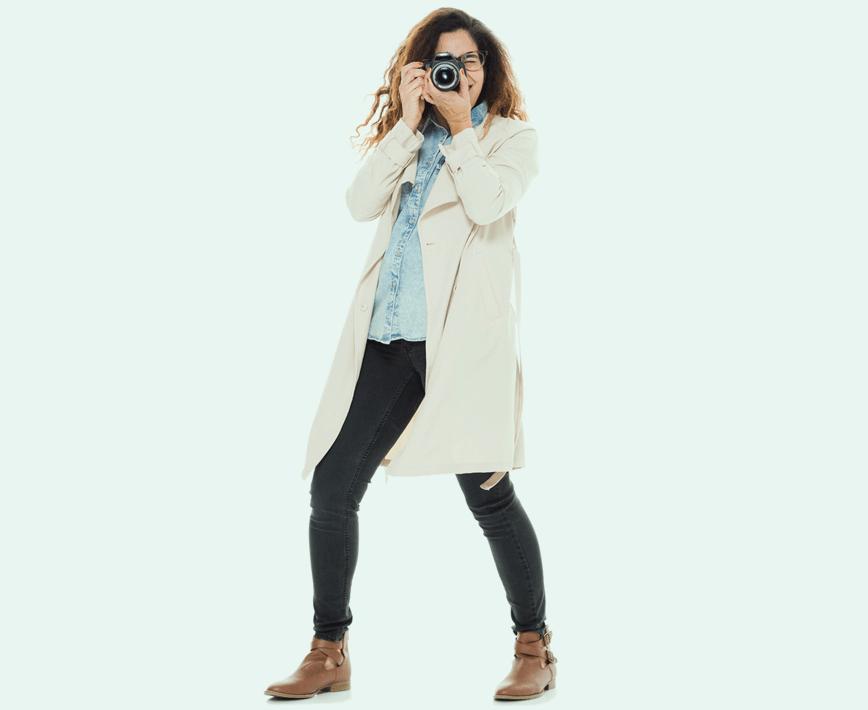 Amateurs
Maybe you're taking classes to improve your photography skills, or you just like to get away with your camera and unwind. However you put your camera to use, we can provide the cover to suit your needs. Our insurance includes cover against accidental damage in case something goes wrong and we can even extend your protection to cover you while you're away on holiday.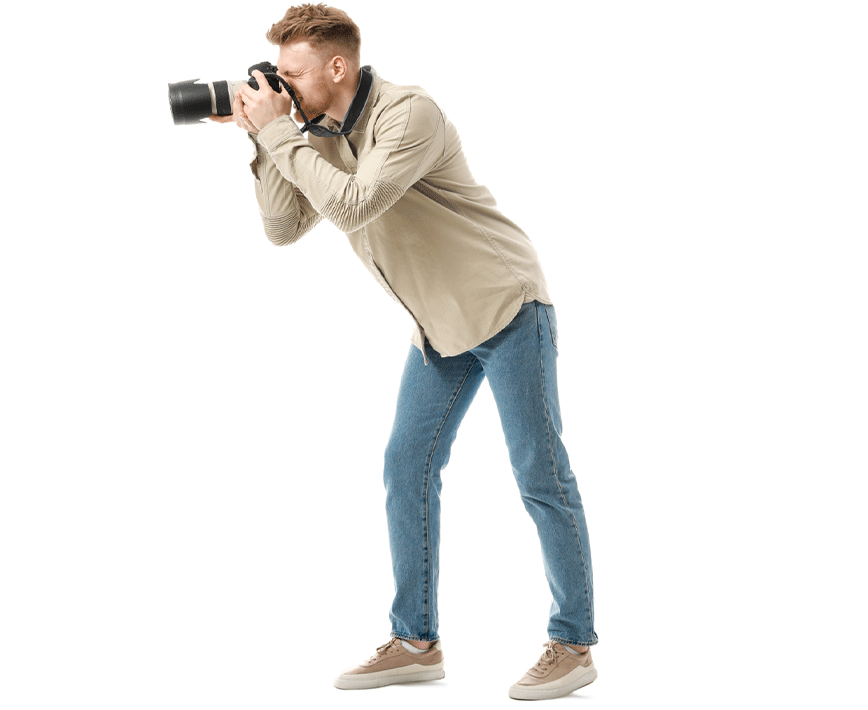 Professionals
For any professional photographer or videographer, having the right protection is crucial to your business and livelihood. At photoGuard, we can provide up to £5million to protect you and your named assistants against claims relating to third party damage or injury. Additionally, our inclusive 30 days of worldwide cover can also be extended to provide 365 days of year-round worldwide cover for your equipment.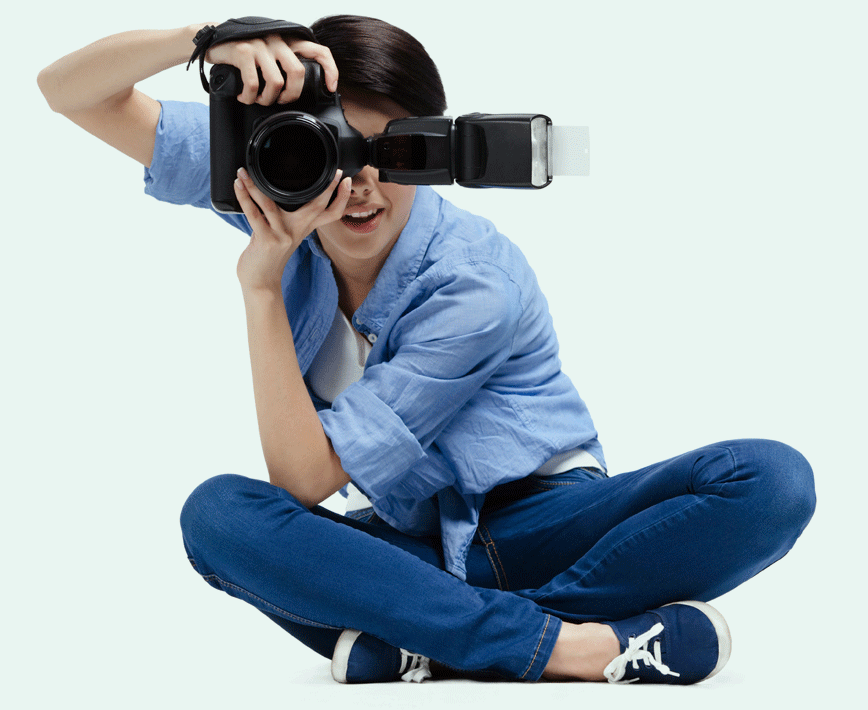 Semi-professionals
There's more to photography than just pointing and clicking, from neutral density filters to microlenses and everything in-between! But even if you aren't relying on your talents to earn a living, you'll still want to keep your camera and photography equipment safe. Our cover can help protect both your kit and any additional equipment whether you're shooting in the studio or out on location.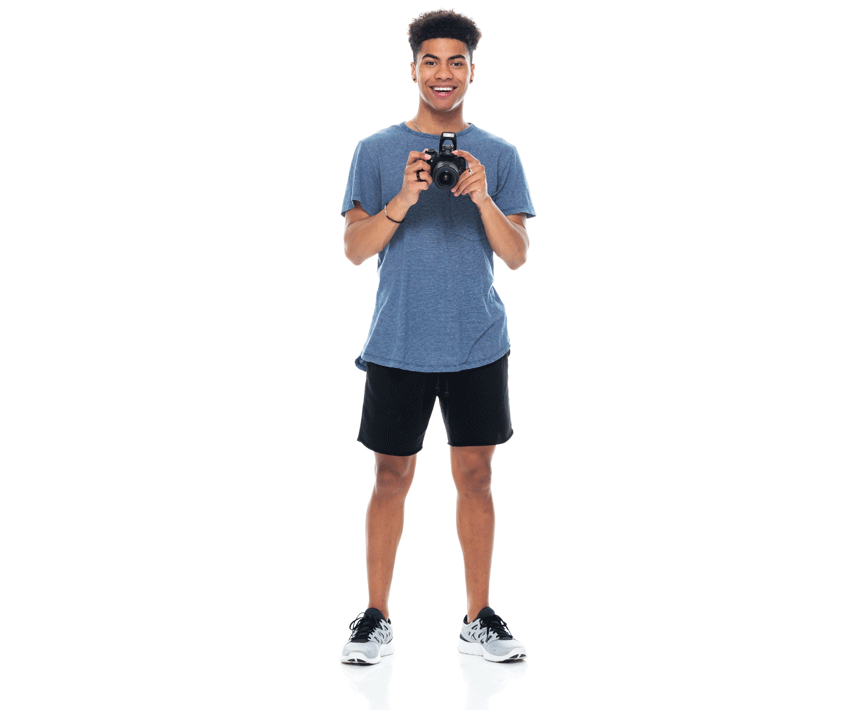 Students
Looking to start a rewarding career in photography? As a photography student, insurance might not be the most exciting subject but as you improve your skills and start to purchase more and more photography equipment, there will come a time when you realise that any kind of theft or loss could hit you hard. Our cover can help protect against Theft and Accidental Damage, In-Vehicle Cover, New for Old Cover and more.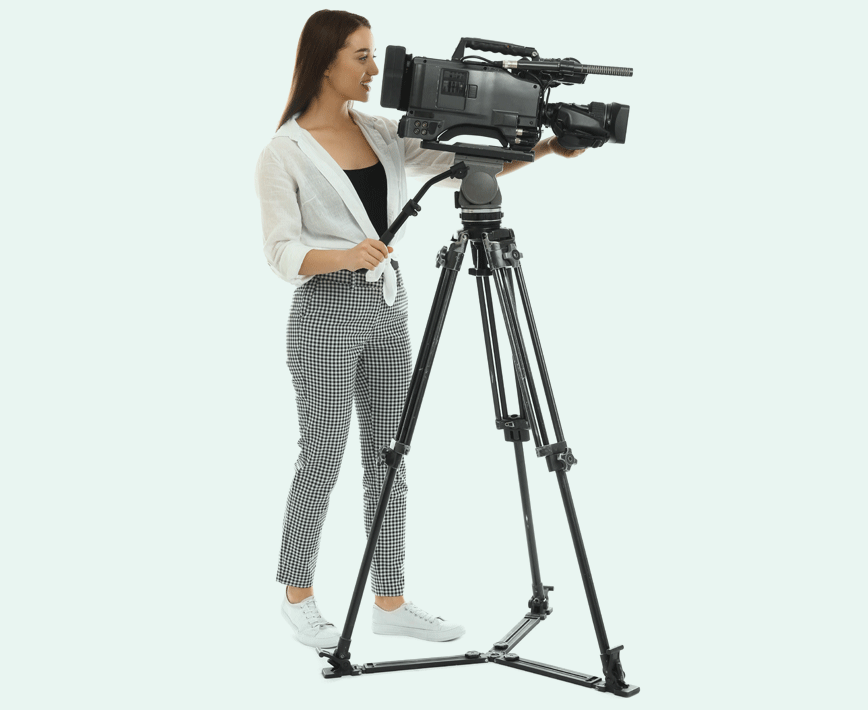 Videographers
If filming is your passion, then you'll want insurance that will help keep your video camera and equipment in working order. Just some of the videographer cover that we offer includes protection against Accidental Damage, Theft and Public Liability. So, whether you've got a shoot lined up in the studio, or whether you're out on location, then we can help provide the cover to suit your needs.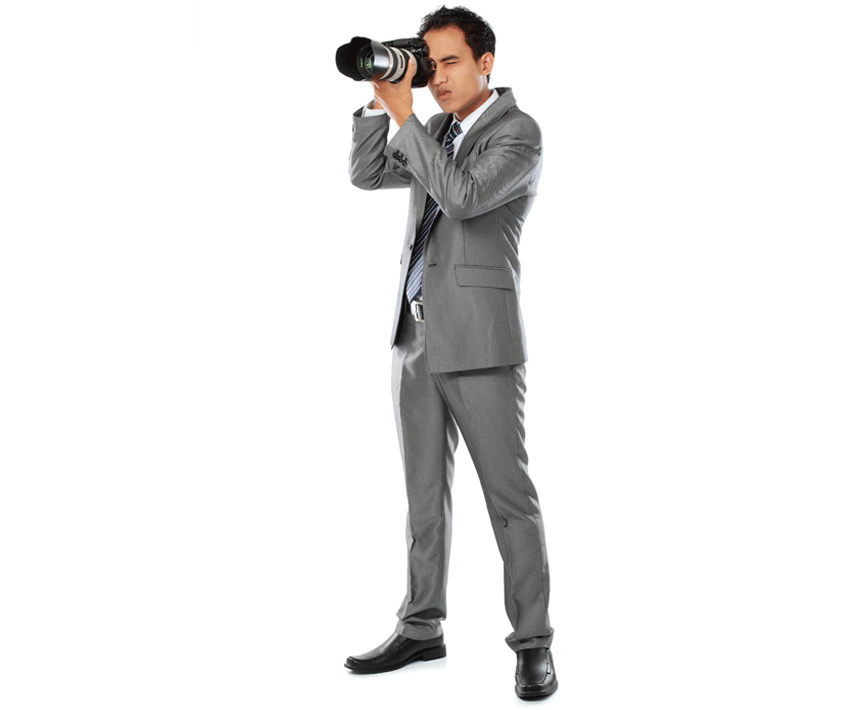 Wedding photographers
Weddings, civil ceremonies and other special events can be a busy time for everyone involved. The last thing you want as a wedding photographer, is to be caught out last minute with a damaged or stolen camera. To make sure you can capture the memorable moments without a glitch, take a look at the specialist photography insurance photoGuard can offer, such as accidental damage to theft and Public Liability cover, and more.
Frequently asked questions about cameras and photography
Want to find out more about our camera insurance?
If you're wondering what our camera insurance includes, then we've answered a few questions here!
Do you insure studios?
No, this policy is designed to cover equipment only and we are unable to provide any cover for premises. You can insure equipment and also benefit from essential liability cover. Please note, photoGuard only covers the equipment you have and we do not provide business insurance or premises cover. But if you are looking for business insurance, our sister company PIB Insurance Broker can help: 0345 450 7171
What is Public Liability cover?
Public Liability, also referred to as Personal Liability or Third Party Liability, provides cover for any photo or filming-related legal liability that results in an injury to someone or damage to their property.
For more information on our Public Liability cover for photographers and what Public Liability cover can protect you against, you can consult our policy wording here. Public Liability cover does not apply to any claim or incident in North America.
If I choose the Mechanical Breakdown option, is all of my equipment covered?
Our Mechanical Breakdown provides cover for electrical photography and filming equipment purchased from new, up to five years old and outside of any other warranty. Unfortunately, we are unable to cover any technology items or drones (UAVs) for Mechanical Breakdown.
Can you cover drones/UAVs?
Yes, so long as they are used as part of your photographic or filming activity. There are some important requirements and exclusions to be aware of:
Cover will only apply if you have complied with the legal requirements for drone/UAV operation and any Civil Aviation Authority guidelines.
Commercial or business use is not covered.
Drones/UAVs are not covered under the Lend to a Friend, Public Liability, Personal Accident or Mechanical Breakdown sections of cover.
Drones/UAVs are not covered for any accidental damage that occurs within the first 21 days of the drone/UAV being added to your insurance schedule as an insured item.
We cannot cover any loss related to drone flyaway and where the drone cannot be recovered.
Do you cover computers, laptops and software?
Yes, computers and laptops can be covered if their primary purpose is for photographic or filming purposes.
Laptops and computers aren't covered under Lend to a Friend or Mechanical Breakdown cover.
Do you cover mobiles and smartphones?
Unfortunately, we are unable to cover any mobile or smart phones.
What value should I insure my photography equipment for?
You should always insure your kit for the current new replacement cost, excluding any discounts, including VAT. However, for pre-owned camera bodies, lenses, and video/filming equipment, you can choose to insure them at their current, new replacement value or at the pre-owned price you purchased them at.
For vintage and rare equipment you need a specific valuation from a reputable source, that is not more than 12 months old. You will then need to obtain a new valuation every three years, to take into account any market changes in value during the period of insurance.
How do you determine a like-for-like basis?
Any offer we make to you will be determined by the features and specification of the insured item claimed for. This is based on the current market equivalent for products of a similar quality and specification and not the original cost of the item.
Do you only cover UK residents?
Yes. You must be a UK resident and domiciled in the UK.
Is there an excess on this policy?
All claims are subject to the following excess unless otherwise stated on your insurance schedule:
Property claim amount:
Under

£

10,000 and claim does NOT include a drone (UAV) - Excess payable:

£

100
Under

£

10,000 and claim does include a drone (UAV) - Excess payable:

£

200
£

10,000 plus and claim does NOT include a drone (UAV) - Excess payable:

£

200
£

10,000 plus and claim does include a drone (UAV) - Excess payable:

£

300
Public Liability (PL) claim:
Property PL claims - Excess payable

£

500
Injury PL claims - Excess payable Nil
Can I add or make changes to my policy?
Yes, you can make changes to your policy by simply logging in to your online account here, by calling us on: 0333 004 6555, or you can email us at: support@guardcover.co.uk
You can add or delete insured items and change some aspects of your policy. Note that additions will incur additional costs. Additional premiums are charged on a pro rata basis from the date of change. Any cover options that you choose can only be added or removed when you first buy the policy or at renewal.
Can you cover two addresses on one policy?
If you need to cover your camera and equipment at more than one address, then you can call our friendly, UK-based team on: 0333 004 6555 and we can discuss your specific requirements.
Can I set up a policy on behalf of someone else?
As the insurance policy is a legal agreement between us and the policyholder, we can only set up a policy with the person who will be named as the policyholder.
I have previously made a claim. Will this affect my cover?
You need to tell us about any photography related losses or claims you have had within the last three years whether insured or not. It is important that you make an honest disclosure of any previous claims or losses, as if not this could invalidate your cover.
How can I pay for my policy?
You can choose to pay in full by credit or debit card. Alternatively, you can take advantage of our interest free monthly payment option and simply spread the payments out, without any additional cost.
Can I get camera cover for travel abroad?
This depends on the options you choose. Included as standard with your policy, you are covered to take your camera anywhere in the UK and up to 30 days worldwide in total during your period of insurance. If you need more extensive cover, you can choose our Global Travel option, which will extend your worldwide cover for the full policy period.
Accidental damage to your photography equipment is only covered if your camera is in a purpose designed case during your journey overseas.
I am travelling on an airline with my camera am I covered?
Provided your camera is in a purpose designed equipment case, it is covered for Accidental Damage. We regret that loss of baggage containing your equipment or theft of an insured item whilst under the responsibility of a transport provider is not covered with photoGuard.
Are there any security requirements for my vehicle or where my camera is kept?
At your insured location (where your equipment is usually kept, which should also be your main place of residence). For cover to apply whilst your items are at your insured location, please be aware that your items must be kept within the main structure of your insured location.
Cover in an unattended vehicle

Theft or attempted theft from a vehicle will only be covered if your insured item is stored out of sight, in an enclosed storage compartment, boot or luggage space. All vehicle doors and windows must be closed and securely locked, and all vehicle security systems activated.

All insured items need to be removed and stored when your vehicle is at your insured location. In-Vehicle Cover does not apply when the vehicle is at your insured location.
Accidental damage that occurs in a vehicle is only covered if the insured item is in a purpose-designed equipment case. If your equipment is in transit with an airline transport provider, see here for more information relating to airline cover.
For any theft claims, whether at your insured location, storage location or from a vehicle, you need to report the incident to the police and there must be evidence of forcible and/or violent entry or evidence of unauthorised access.
Making a claim with photoGuard
We've made making a claim so easy
If you've suffered damage to or theft of your camera, we know how distressing it can be. That's why we'll do everything possible to deal with your claim promptly and get you back out filming and taking pictures again. Our easy-to-use claims process is listed below with some helpful information regarding what to do if you need to make a claim.
1. Call the police
If you've been the victim of theft or malicious damage to your photography equipment, your first port of call should be to inform the police.
2. Contact our claims team
Contact our in-house UK team to make your claim.
You can call us on: 0333 004 1999 to get started, or alternatively, you can email us with details of your claim at: claims@guardcover.co.uk
3. Make your claim
We'll provide you with your claim reference and talk you through the next steps. Should we need any further information to help process your claim, we can explain what's needed and support you.
Your policy document explorer
For customers whose policy started before 1st January 2021, you can access your policy documents here.
Existing customers: If you have an existing policy before September 23rd 2019, then you can contact our team for information on your policy.
You can email us at: support@guardcover.co.uk or call us on: 0333 004 6555
photoGuard customers say this...
We pride ourselves on delivering a personal service to every photographer that we help protect. You don't have to take our word for it though, check out some of our independent reviews to see what our customers have to say! If you'd like to leave your opinion, good or bad we encourage you to submit a review too.