Self-portrait ideas you can try at home!
Find out some of the best and most creative self-portrait themes and ideas.
Photography can be a wonderful window to creativity and a great way to express yourself and your artistic vision. But what about when you can't find models or just want to practise your photography skills alone? Self-portraits are an excellent way to develop your creative eye and create beautiful images at your own pace, with the chance to be a little more experimental if you wish.
But what do you need to get started with self-portraits at home? And how can you create creative self-portraits you can be proud of? Read on to find out more.
What is self-portrait photography?
Simply put, self-portrait photography can be defined as taking a photograph of yourself. If you are the subject of your own picture, then by definition, you're creating your very own self-portrait!
You can get really creative with self-portrait photography and can use different techniques and ideas to change the narrative of your picture. Self-portrait photography doesn't have to be restricted to your standard 'selfie'.
What equipment do you need for self-portrait photography?
You don't necessarily need to own a top-of-the-line DSLR in order to get great results for your self-portrait photography at home. Even portraits taken with a phone can produce beautiful results.
Having said that, it isn't quite as easy as holding your phone up for a selfie. You'll want to invest in a tripod if you don't already own one. Using a tripod which will hold your camera in position and help you get the best results for your self-portraits.
Tripods
Sometimes, these tripods will be sold with a remote trigger, which allows you to control when the shot is taken. This is a lot more convenient than using a timer, as it means you can fully compose your shot and be in place before you begin shooting.
Lighting
You'll also need to take into account the lighting of your self-portraits. Even if you aren't spending any time in the studio, you can easily utilise either the natural light sources in your self-portraits (sunlight, for example) or artificial light sources (lightbulbs or lighting units). Here are some of the lighting options that you can use at home:
You can find out everything you need to know about fill lighting and how to use it to your advantage to get the best result for your self-portraits, here.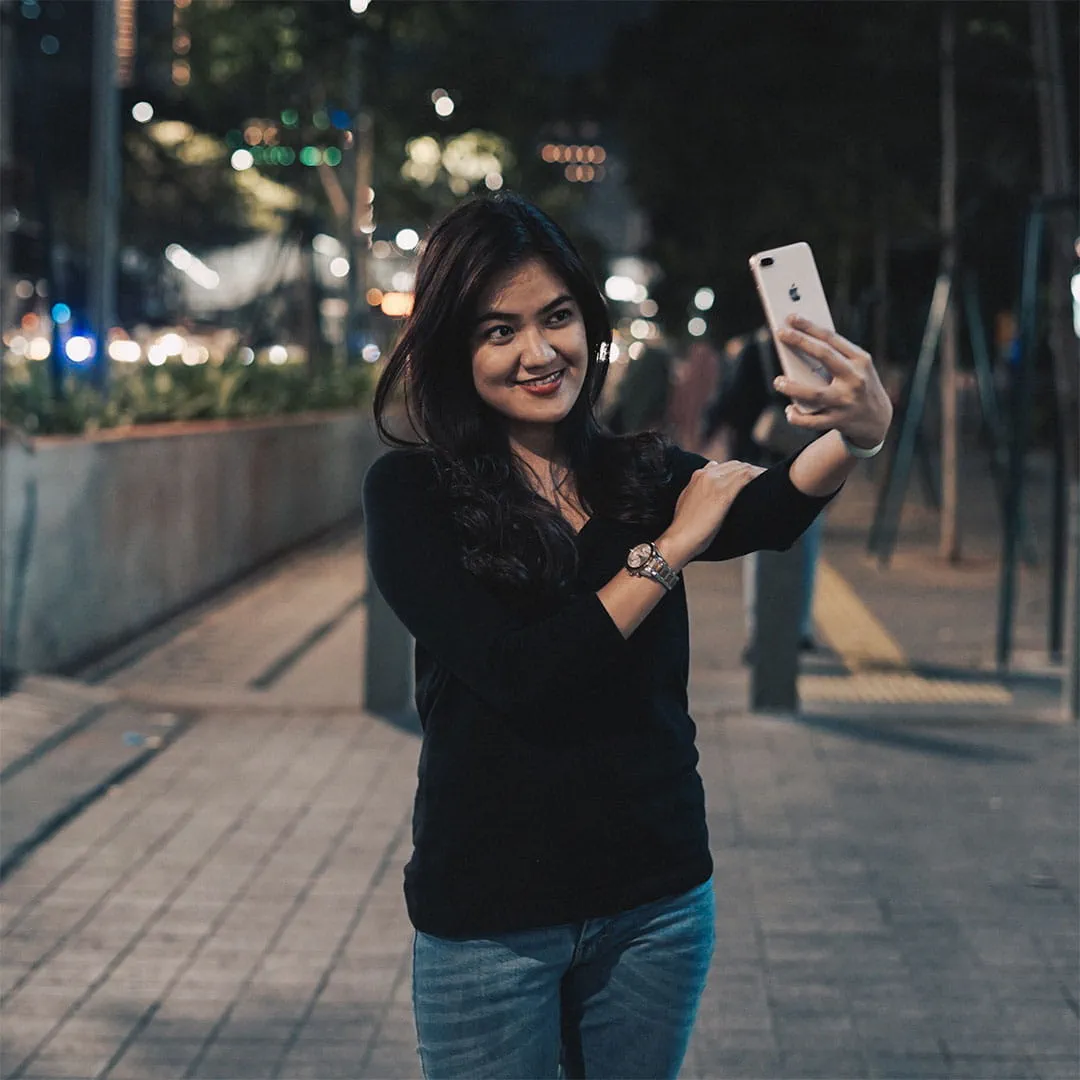 How can you perfect the selfie? What are the best angles for self-portraits?
Self-portrait photography with a phone
These days, the average smartphone has more than enough quality to produce a decent self-portrait. In 2023, smartphone giants Samsung can deliver 200MP with their Galaxy S23 Ultra and the iPhone 14 comes with 12MP in the rear camera.
There are some really creative themes and ideas for smartphone portraits, some of which you can download apps to help with. Why not try some of these?
What are the best angles for self-portraits?
Taking front-facing self-portraits might get a little dull after a while. To try your hand at creative self-portraiture, look at things from a different angle. For example, if you are taking a photograph of yourself in front of a tree, try positioning your camera to take the picture from below. Or use an extreme close-up to highlight a part of your face or body and provide intimacy.
Lighting for self-portrait photography
Natural light is an incredible resource when you are taking a self-portrait. Try taking photographs at different times of day and in different locations so you can flood each shot with light variations and see how strikingly this can impact the outcome of your image.
Shadows are the natural result of light, and you can use them to your advantage. They can create beautiful, inventive patterns of light across your face. Experiment with poses to shift the positioning of the shadows, and use props such as fabric, lace and even cardboard to invent new looks.
Creative self-portrait photography ideas
Mix up your photography portfolio or keep yourself occupied with different photography projects by experimenting with self-portrait photography. Whether you want to mix things up for your Instagram or your website, here are a few ideas you can try.
Layering images
Layering images digitally requires relatively little tech know-how and can produce a gorgeous effect. Double exposure used to happen when one image was layered over another on analogue film, but now you can get the same results intentionally with a little digital editing. Bringing two photographs together with photo editing software can give you great creative control over the finished look of your photograph, perfect for when you want to add more artistry into your work.
Black and white self-portraits
There is something to be said for classic black and white. While it is tempting to draw out the vibrant colours in your photographs (and this, too, can completely change up the feeling of your pictures), try black and white for a timeless twist.
Black and white photography can help to highlight your expression and draw focus to your face rather than your surroundings. It is especially beautiful when used on high contrast photographs where there are strong elements of darkness and light. Try it yourself to see how gorgeous this old favourite can be.
Are you feeling inspired to get out there and try some self-portraits at home? Whether you want to try your hand at editing or just find new locations, grab your camera and get creative.