7 of the best pet tips for pet photography
Perfect pet photography made easy with these tips!
If you're thinking about taking photography to the next level, food photography could be the way forward! It's an increasingly popular hobby and can create profits once you've acquired the right skills and built a reasonable portfolio of work.
1) Be patient with cats and dogs
The number one tip for pet photography is to be patient. You also need to give yourself plenty of time to take them because animals are easily distracted and have a very short attention span. It's always a good idea to allow the animal to have some time with you before you start taking photos, so let them interact with you, explore your equipment and where you want to take the pictures, and experience the flash of the camera.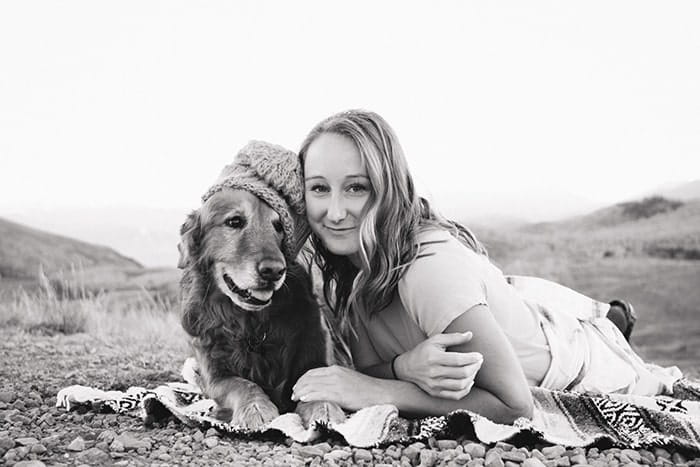 Pet portraits are a huge hit with pet owners / Image: Olivia Hutcherson, Unsplash.
2) Engage with the animal
When you engage with the cat or dog, you will hopefully get its full attention and this will result in a more engaging image. This may be through interaction in a game of fetch, or by snapping an image when they are relaxed after having a run-around. Involving the owner is also a good way to engage with the animal and to gain their attention for your chosen shot. Sometimes, pets will be much more amenable in portraits with their owner by their side.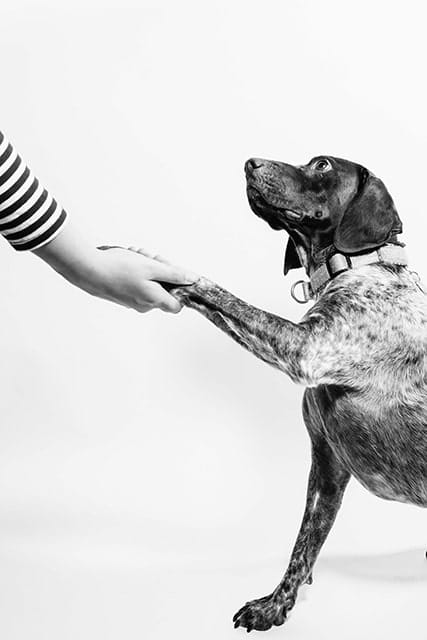 Interacting with cats and dogs and involving their owner is a great way to capture them at their playful best / Image: Fabian Gieske, Unsplash.
3) Get the right lighting
No matter what you're photographing, whether it's a person, plant, or animal, it is vital that you use the correct lighting. When shooting outdoors you need to know how best to use natural light and this involves the correct setting and time of day. The best time of day for taking photographs is early in the morning or in the evening, as this will create soft lighting with no harsh shadows. When photographing animals indoors, you can use artificial lights, but it is best to do so with reflectors to eliminate unwanted shadow and to create a natural-looking image.
4) Create the right background
When photographing a cat or dog, it is important to consider the background and how this impacts on the overall image. Although the eye will be drawn to the animal, the background can also convey more meaning in the story you wish to tell, or feelings you want to evoke. You don't want any stray objects such as a pile of washing or toys to distract the observer from the main focus, so be sure to clear any clutter and set the scene.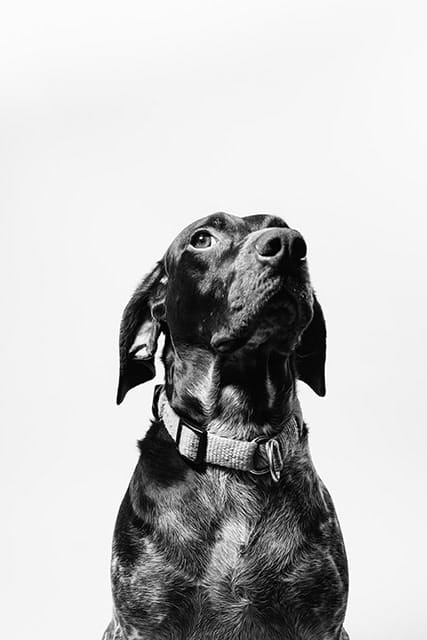 Experiment with dark and light backgrounds / Image: Fabian Gieske, Unsplash.
5) Be on their level
Another big top tip is that you need to get down to their level, so this often means lying or crouching on the floor. Not only will this help you engage with the cat or dog, but it will also give you a different perspective of an image that is created from their viewpoint and world. What you will get is a truly distinctive image that will set your portfolio apart from all the others as it will differ from those standard cat and dog photos that are seen everywhere.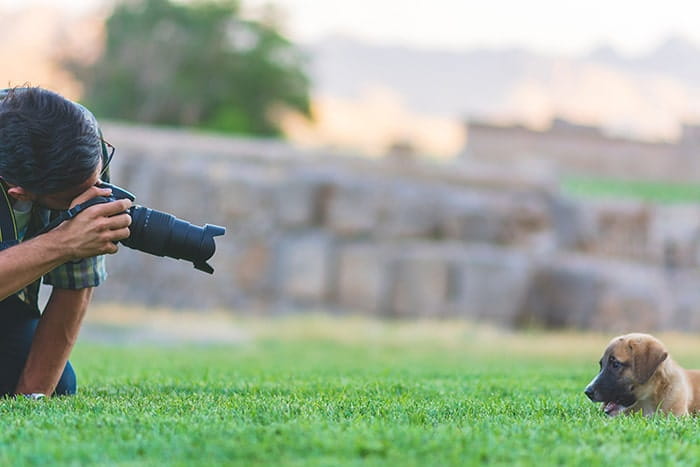 Get down their eye-level to get that perfect shot / Image: Pooya Ramezani, Unsplash.
6) How do you keep the cat or dog still?
You'll encounter the same problems with animals as you do when trying to photograph children. Trying to keep a cat or dog still is pretty much impossible. However, there are a number of tricks that you can use to help you. Giving a treat is a great way to keep a dog still and to quickly get that desired shot. You can also use a squeaky toy to gain their attention and to stand still for a minute. Overall though, your best tool is patience.
7) What is the best equipment for pet photography?
Having and knowing how to use the right kit can make the world of difference when it comes to getting your desired image. Try using a range of lenses to create different effects, such as a blurred background or a wide angle. Play around with different pieces of kit to see what works best for you and your chosen style of photography.
We really hope you have found these hints and tips useful. Feel free to send us your pet portraits and photographs via our social channels!