How to organise your photos like a pro
How to organise your photos like a pro
Why is it important to organise your photo library properly?
Digital photography changed the way we organise our photo collections forever. No more carefully sending a roll of film for development. No more flimsy paper pouches full of grainy snaps. We can quickly and easily take thousands of photos and scroll through the best in a matter of minutes. However, it can be hard to find the time and energy to sort through quite so many photos. Here we look at some of the most important things to bear in mind, if you've decided to get on top of your photo organization.
The importance of backing up photographs
Once upon a time, backing up your digital photos meant painstakingly burning them on to a CD. Luckily there are lots of more straightforward, and thankfully speedier options now available.
An external hard drive is a great investment for anyone serious about your photo collections. This provides an entirely separate storage device, so even if your main computer is suddenly lost, damaged or corrupted, your files are kept safe. The process of uploading your photos to an external hard drive is also a great opportunity to sort and filter them - giving you a great head start on your photo organization.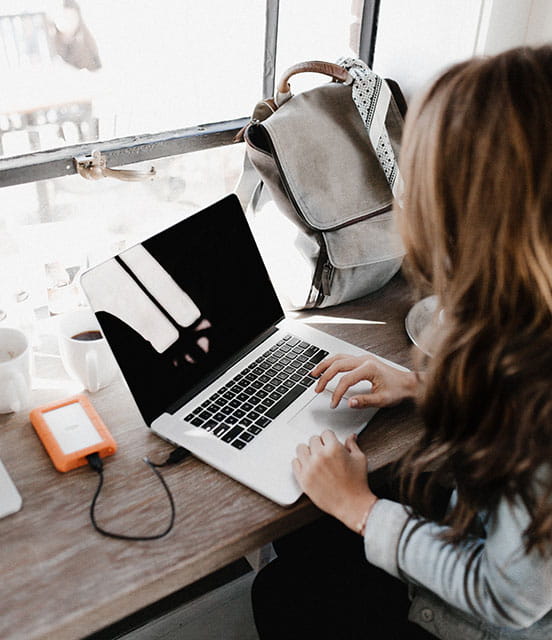 Hard drives are useful, but it can be handy to have your photos backed up in more than one place / Image: Andrew Neel, Unsplash.
The best cloud storage options for photographers
In addition to an external hard drive, you may benefit from exploring cloud storage. This term simply refers to online storage, which is now available through a wide variety of different websites. This allows you to access your photos from any device, as long as you have an internet connection.
iCloud
The default cloud storage platform on iOS and macOS devices, although it is not strictly limited to Apple devices. The program does integrate seamlessly with the photo library on Apple devices, which is not necessarily reflected on Windows PCs. The iCloud web app provides access to an interesting range of other editing programs in the iWork productivity suite - which are well worth exploring.
Google Drive
Freely available, Google Drive is a default option for Android users, but it also synchronises well with Android devices. Google Drive users can start with 15 GB of free storage, rather than the 5 GB allow on iCloud. Both programs do offer paid-for upgrade options.
Dropbox
The main difference that Dropbox brings to the table, is a powerful desktop app. Whereas Google Drive will only allow sharing through the web application, Dropbox shares from the desktop app. Dropbox also tends to support earlier versions of macOS and Windows, and is also Linux compatible, which can sometimes prove an advantage over other cloud storage applications.
Box
Box is a firm favourite with business clients, primarily because it enables an unlimited number of users to access the same cloud. It prides itself on being extremely secure, meaning your files are reliably protected.
Using apps to help you sort through your photos
If manually reviewing the photographs on your phone seems like a lot of hard work, there are some well designed apps out there that can help. Google and Amazon Prime both have their own app offerings, both of which get great reviews.
Another popular option is Slidebox - which has a fantastically simple user interface, making it incredibly simple to delete photos you don't like, and remove duplicate shots. The app doesn't use its own storage, it relies on your smartphone for that. It will sync up with your photo library, and allow you to review every picture individually, and swipe up to delete. You can also add them to specific albums. The deliberate 'up' swipe reduces the risk of an accidental delete - although even if you do, the images are recoverable from Slidebox's trash folder.
If you're looking for a great way to sort through your DSLR photos on your computer, there are also some great programs that can help. ACDSee is consistently rated as one of the most powerful photo organization tools for desktops and laptops. The program allows the user many options to rate photos, add categories or labels - and even color code them. It is constantly reviewed as a highly intuitive and very user-friendly tool.
Is it still worth keeping a physical photo album?
This question really comes down to personal preference. For some, a hard copy photo album is a lovely keepsake, something to treasure and look through for years to come. For others, it is an outdated relic of the past. Even if you don't particularly want to keep hard copies of your own photos, do bear in mind that photo albums can still make a lovely gift! There are a lot of online services such as Photobox and Snapfish which can help you to quickly and easily organise your photos into an album, which you can order physical copies of.